Thanks for visiting my site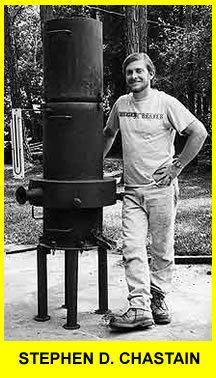 Steve, a mechanical and materials engineer, lives in Jacksonville, Florida. He regularly publishes articles regarding metal casting, machining, and automotive restoration. His "Small Foundry Series" of books are sold in over 40 countries and have become popular "design projects" at many schools and Universities. Steve runs a small foundry and machine shop where he produces castings for antique cars and equipment. In 1989 he formed SDCElectronics, a manufacturer of theatrical lighting control. Steve is an avid reader and maintains a personal library of over 1500 technical and engineering titles.
Steve has always had a passion for music, books and building things. Even before he could read, at age 5, Steve was winding wire around nails to make the electromagnets he saw in the encyclopedia. Before long, he was taking the family lawnmower apart, along with anything else he could find. At age 8, he started singing and playing a guitar that his parents traded for green stamps, soon joining the school choir. (Choir Photo).
Steve was never much interested in sports and at 12 he built his first GO-KART from the family lawn mower plus some pulleys, wheels and belts he got from Sears. His parents were not pleased to find that he had sold the set of golf clubs he had received as a Christmas present for $20 to finance his go-kart project!
Steve was an avid reader and by the end of elementary school had already read the biographies of Rudolph Diesel, Andrew Carnegie and Thomas Edison. Steve has always loved science and spent much of his time in the library, reading chemistry and thermodynamics (yes really!). Thinking school was taking much too long, he skipped a semester of junior high school to sit in the college library and read "something that mattered," a stunt that landed him in a military high school. While at MILITARYSCHOOL, Steve picked up the electric guitar, eventually getting a degree in music and theatre at Florida Southern College. Thinking he might need a degree in something more reality based, he went back to school for economics.
Not quite ready for a desk job, Steve joined a touring rock band, the "HEARTBREAKKIDS." Soon he was running things, designing and building the lighting, sound and staging equipment. The band quickly became popular and was a favorite opening act or backup band for many 80's acts. Steve's lighting equipment became such a hit that he formed "SDCElectronicsInc" to manufacture the line.
Having an interest in antique CARSand engines, Steve built a small foundry and machine shop to manufacture replacement parts. Always having a passion for engineering, he sold his lighting business, quit the band and enrolled at the College of Mechanical Engineering at the University of Central Florida. Soon, he had (degrees) in Mechanical Engineering and Material Science. While at school, Dave Gingery and Tom Lindsay talked him into writing his now famous "Cupola" book and the "Small Foundry Series" that followed. Steve hasn't slowed down and has plenty of new projects on the way! Keep an eye out for several new books each year.